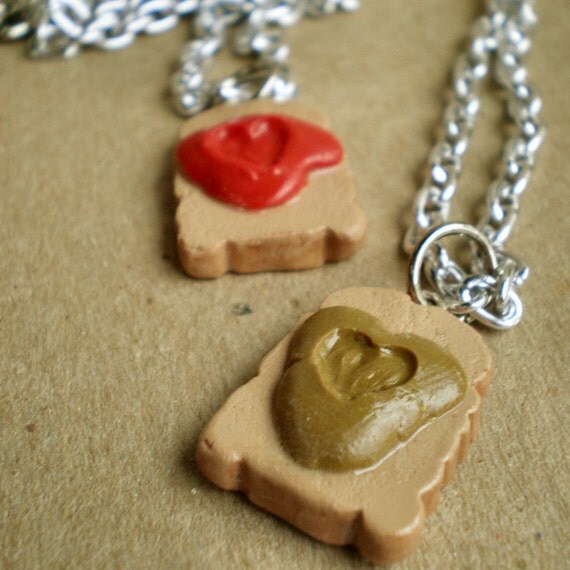 This week we have the whimsical and bakery inspired jewelry and accessories created by Jessica Mount from Frosted Treats on Etsy.
Jess creates her jewelry and accessories for the person who isn't afraid to wear their imagination on their sleeve. Rarely are her pieces ever duplicated. Each piece is made a little differently. Jess isn't satisfied with the colors straight out of the store, so she blends her own colors and seeks to incorporate a little quirk and charm in each piece.
Her advice to new Twitter users is to be consistent. "We all get busy and neglect our social media from time to time, but I have found that it is clear that my work gets the most attention when I'm active on Twitter and other networking sites. Also, know your audience. Crafters and people who buy and support handmade, love to be connected. That's what the handmade community is all about. Finding an artisan that you like and connecting with their art."
Her favorite artist is her grandma and great grandmother. "Great Grandmom has been sculpting for years – dioramas and three dimensional still life pieces. She's also an accomplished seamstress. My Grandma would probably smack me if I called her an artist (or if she knew I was talking about her on the internet), but she's got such an eye for style, design, and color. She's also a quilter and a collector. "
We also asked Jess if she had $1M and had to give every penny away, what would she do with it and why? Her answer was this, "I have a lot of faith in the A.I. duPont Children's Hospital in Delaware and the work that they do for children and their families. Without that hospital and the capable people there, who knows what would have become of my beautiful nephew.
She has been the most influential person in learning her craft, because she is independently driven and has taught herself through research and experimentation.
This is what Jess says you may be surprised to know about her, "The more I see where the world is going, the more I want to be a hippy farmer and be self sufficient in my own little world. Not because I'm a "stick it to the man" type of person, but because I love learning about how to make/do things for myself and I love the idea of a simpler life."
If she could live anywhere else except where she currently lives now, she says it would be London, because in her imagination everything would be simply lovely.
We also asked her how her environment or locale influence her work, creativity or inventory? She said, "Truthfully, central New Jersey does little to inspire. But the people I know and love inspire me – their ideas, their interests, their favorite colors. I love being given an idea and the chance to run with it."
And finally, we asked her if she were stuck on a deserted island with plenty of food and water, what three things would she want? This is how she answered, "Sunscreen – I burn easily. Books – Got to keep reading! Music – I'm at peace when there's music around me."
Special Deal for this Week:
Free shipping within the US/Canada – Use code SOTWSHIP. International customers will get a free gift.
And YES she ships Internationally!
Visit her at the following places:
Etsy Shop: frostedtreats.etsy.com
Twitter: twitter.com/frostedtreats
Facebook: facebook.com/frostedtreats
Blog: miscmakers.com